About Marcobehler
What I do
I'm available for hire as a coach and consultant. Here are some of the things I can do for your company:
Teach your team advanced Java, Spring & Microservice skills. Do you think your team can benefit from thoroughly learning the tools and framework it uses every day (hint: almost every team does)? And would you like to make sure that precious training time isn't wasted by letting your developers sit through countless, boring power-point slides - instead, you would like them to learn by doing actual, real-life work? Then I can give your team(s) unconventional, learning-by-doing workshops, that make your developers code almost from the get-go - with no slides at all.

Help you build a culture of 'Getting Things Done'. Does your team get stuck in endless stand-ups or debating technological choices? Do you have the impression that the communication inside and outside your team is off, leading to production delays or building the wrong features? Does your team have difficulties with (or is even skipping part of) the review or QA process? Are you constantly performing under high-pressure, but with comparatively little output? I can get together with your team members, stakeholders and management to identify these soft issues and create strategies so that your team gets stuff done again.

Solve complex problems. Do you have a performance problem in production and do not know why certain workflows take way too long, fail in unpredictable ways or suddenly issue 400 SQL queries? Do you have a server or legacy system that no one understands anymore, but you want to extend it? Do you have a build and testing process that takes hours or even days, that you want to desperately cut down? Do you need to perform a non-disruptive migration of customer data between legacy and greenfield systems? I can help you analyze, create strategies for and finally solve these problems.

Programming Languages. I have experience with an array of languages in the JVM world, notably Java, Kotlin, Groovy and Scala. Also, frontend-Javascript and Node.Js, as well as Bash scripting and a bit of Python.
Rates
A typical workshop contract is for one to five days of work. Content and length of the training sessions are custom-tailored to your needs.
A typical consulting contract is for 1 month of work. I'm open to shorter contracts than that but prefer longer ones. For a shorter contract, we'll divide my monthly rate by the number of days you want and add a small amount of overhead.
I am normally booked 1 to 3 months in advance. Rates upon request.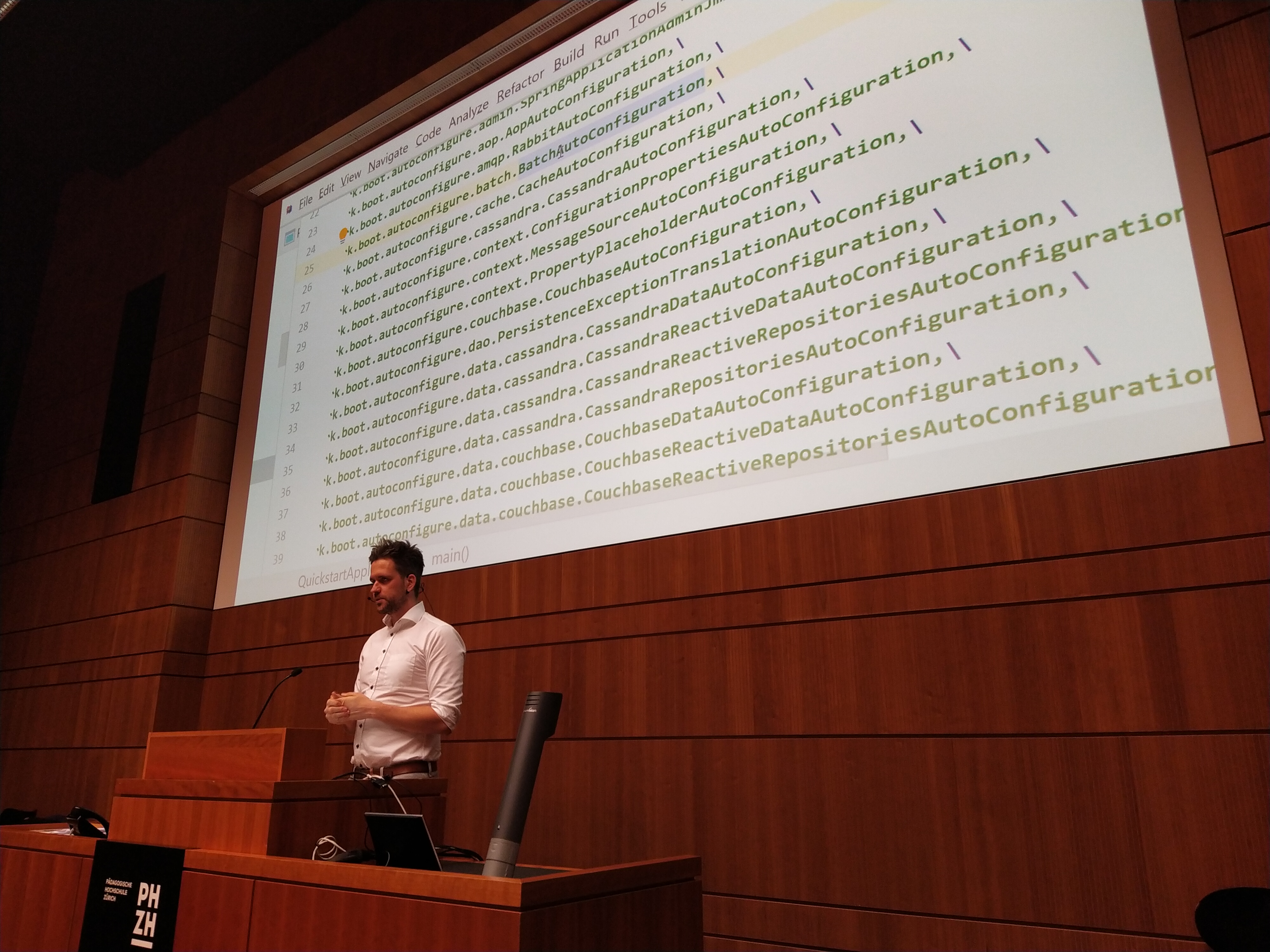 Previous Engagements
Lead a team building a real-time Java accounting system from scratch. Helped merge and migrate online payment platforms, as well as plan and migrate a core-banking system.
High focus on quality, detail and performance - so no money gets lost.
Part of a massive scrum-of-scrum project rebuilding the BMW website, including backend systems for user management, car configurations, dealer locators, etc.
Built a tool to trace and visualize calls between microservices (long before microservices were a word).
Implemented new legislation for automatic processing and analysis of medical reports across the state of Bavaria.
Also: Reduced the runtime of a Cucumber test-suite from 3+ hours to 20-25 minutes. Safely upgraded out-of-date Spring, Hibernate and third-party library versions for a decade-old monolith.
This is where I learned the tools of the trade, mainly in Java. The now-defunct software agency created custom software from scratch for a variety of clients. Covered concepts, implementation and deployment phases.
Built custom CRM software for international manufacturers, accounting software for building contractors, tracking software for athletes and payment integrations for smaller companies. Full-on DevOps before it was a term.
Java User Groups & Conferences
I have been giving regular live-coding talks at Java User Groups across Germany, Austria and Switzerland. I have also been speaking at conferences like W-Jax about popular Java topics.
Company Trainings & Workshops
I have been giving training sessions on advanced Java & Spring topics for a variety of companies and even individuals in 1 on 1 sessions.
This site started as a screencasting site, where I created hundreds of live-coding screencasts covering advanced core Java topics, but also covering Spring, logging, messaging and microservices topics. It is now focused on quality guides and practical exercise-courses, that make you learn by coding.
As a side-note: Eating my own dogfood, this site was completely built by myself and has since served roughly a thousand customers.
How it all started
Once upon a time, in the schoolyard, someone hooked me up with a CD (or floppy disk) full of tutorials & tools for reverse engineering software - which made me quite curious.
Hence I got into programming by (trying to) study walls of assembler code in SoftICE and W32Dasm. A lot tougher at the time than reading Java stack traces today, but nevertheless, a great accelerator for my debugging skills.